i had the amazing opportunity to check out The Mills at Jersey Gardens new Lululemon Outlet store a couple weeks ago.
just to give you guys some background: The Mills at Jersey Gardens is New Jersey's largest outlet and value retail center with over 200 stores all under one roof… Burberry, Coach, Ralph Lauren, adidas, Nike, Ugg, Converse, Kate Spade, etc. etc. etc! there's seriously SO much here. the center also offers the largest Tommy Hilfiger in the US and a 20-screen AMC Theatres featuring IMAX.
it really sounds like a shopper's paradise.
not to mention there is daily transportation from both the Manhattan Port Authority Bus Terminal and Newark Liberty International Airport
The Mills is a great day-trip out of the hustle and bustle of New York City and features tax-free shopping on clothes and shoes. tax free shopping is one of the many, many perks of living in NJ and if you're able to, you should take advantage of this!
anyway, let's take you inside my shopping experience and show you all the goodies i got for AMAZING prices.
My first favorite outfit is the one in this photo! This extremely flattering and soft mauve bodysuit paired with a pair of comfy leggings is perfect for a workout or for running some errands! I felt like a ballerina in this outfit 😋
i switched out the mauve leggings for the same exact pair in black.
seriously this is the perfect outfit for running some errands while looking entirely put together but also being incredibly comfortable!
switched out the bodysuit for a beautiful maroon top
Next I picked out a maroon colored workout top and paired it with the black leggings from my last outfit. This type of outfit is my "go-to" workout outfit. Simple, cute, stylish and puts me in the mood to WORK OUT. ⚡️💥 My favorite :)
Next up I paired this black bodysuit (this is the same bodysuit as the mauve one in my first two outfits) with these flowy yoga pants. This outfit is super comfy but looks so professional I would probably wear it to a meeting or for a more formal event. 😇

I love how Lululemon at The Mills Jersey Gardens has a wide range of clothes that are comfy yet stylish AND the best part is that they are all discounted! 😍👍🏼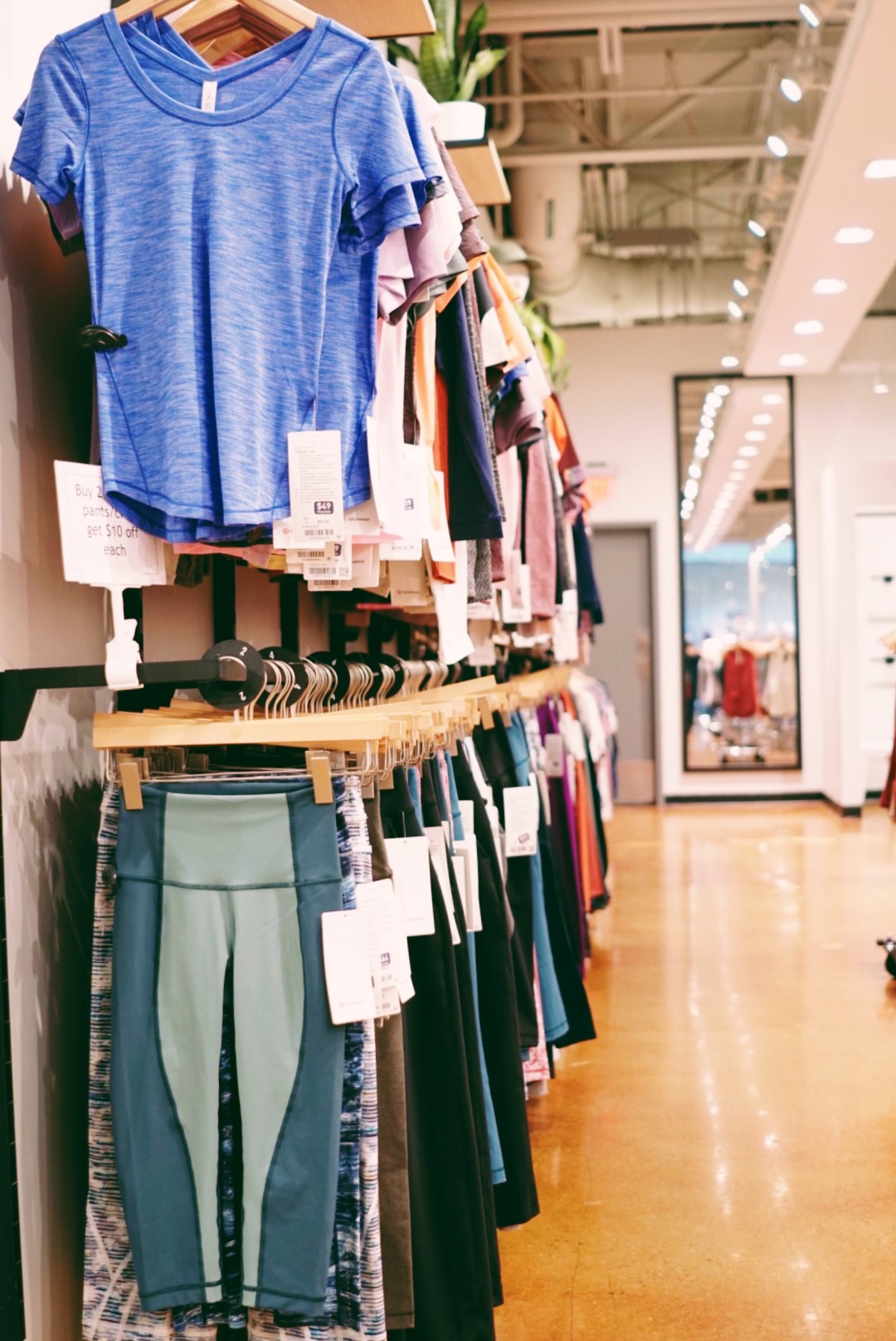 The Mills are Jersey Gardens is THE destination in new jersey to find the latest on-trend fitness must-haves, whatever your budget, thanks to great outlet stores like Lululemon Athletica.
it's also important to note that there is also an entire men's and child section and so many accessorizes!
speaking of accessorizes…
this outlet has headbands, yoga mats, underwear, socks, bags, and backpacks ALL discounted.
here's another backpack i fell in love with!
this backpack (that matched perfectly with outfit #1) was OVER ONE HUNDRED DOLLARS OFF… i mean, come on, you can't beat that. you guys HAVE to check this place out.
before i wrap up this blog post… i have to give a special thanks to the Lululemon manager that was so incredibly helpful, patience and just as enthusiastic as i was about this project. follow him on instagram at @kolossal_kev — he's a great guy!
and lastly… a MAJOR thank you to the Mills at Jersey Gardens and Lululemon for this experience and the shopping spree! this post is sponsored but all thoughts, ideas and words are of my own opinion and thought.